Guru: "One who dispels the darkness"
Jaime Sanchez, ND, Founder & Director
Passionate about teaching the skills needed to practice yoga safely and effectively, Dr. Jaime Sanchez founded West East Yoga in 1997. He is also the founder of a number of other yoga and wellness centers in Venezuela and the United States and is an international lecturer for East-West Natural Healing, Inc. speaking at events in Spain, China, and across the Americas.
Jaime started practicing yoga at the age of eight in Venezuela and became a yoga teacher in 1967. Certified at the 500 E-RYT level, recognized by Yoga Alliance, he has taught yoga at Saint Louis University and Christian Hospital for over 10 years. He is also educated in the Solar, Iyengar, and Sivananda methods as well as yoga philosophy and Sanskrit. A naturopath doctor since 1995, Jaime also studied acupuncture extensively in China at the Nanjing University of Traditional Chinese Medicine.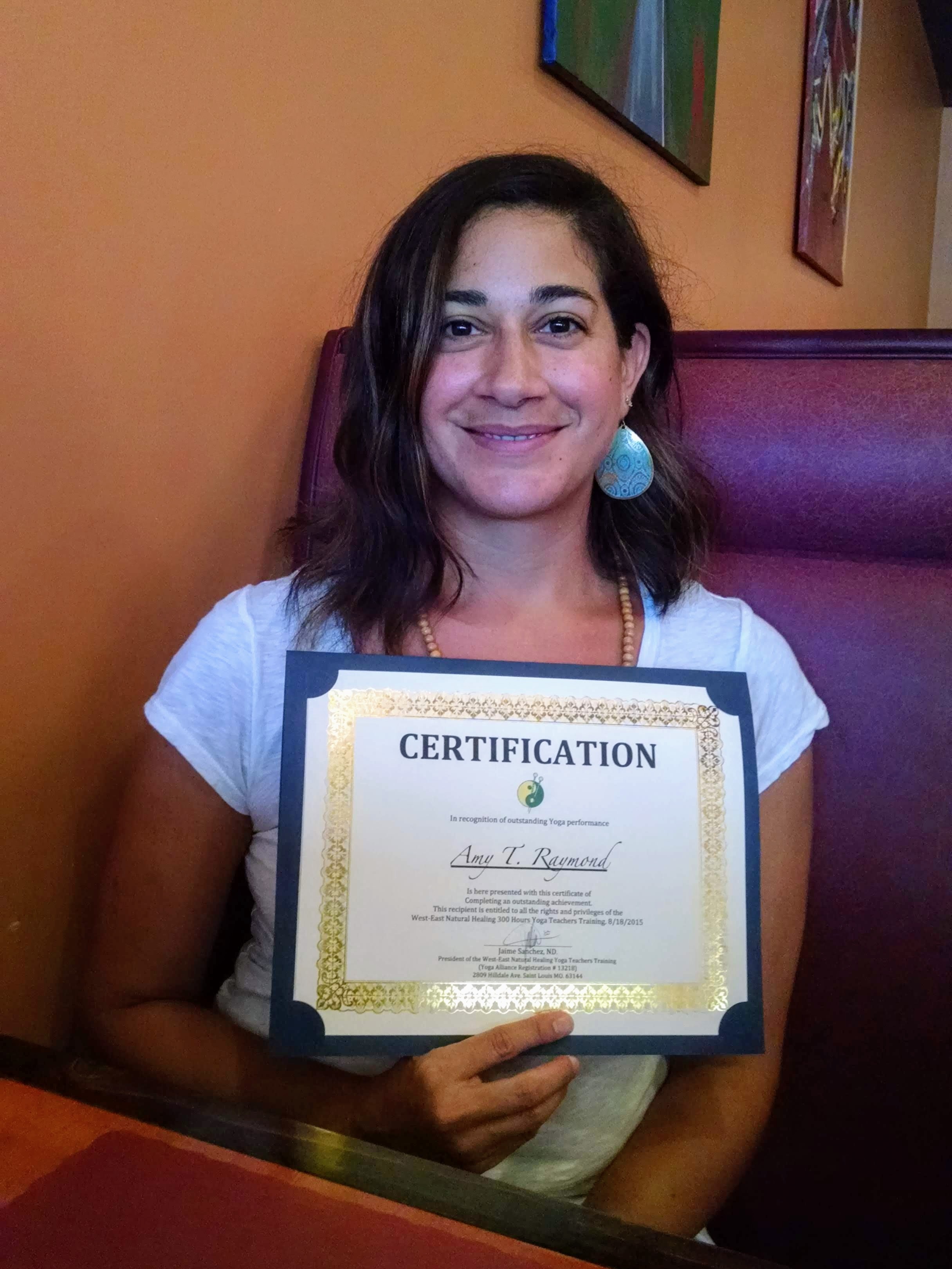 Amy Raymond, Academic Coordinator
Amy has been practicing yoga for 16 years. In 2014, she realized that yoga made her feel good, quit her day job, and enrolled in West East Yoga's teacher training with Dr. Jaime Sanchez. Now, more grounded than before, Amy lives the science and practice of yoga on the daily and teaches private yoga to individuals and groups. Amy likes to create a calm and nurturing environment, inviting students to move with their breath and remain in the moment.
Laura Meyer, Admission Coordinator
Laura believes that yoga will benefit any body through their walk of life. By creating harmony within the mind-body system, she believes yogis are able to cultivate a lifestyle that revolves around awareness and wellness in a way that works specifically for each and every unique being. With yoga, there is much to lose: anxiety, stress, restlessness and even more to gain: peace, focus, gratitude.
Johanna Avery, Finance Coordinator
Johanna instructs the 200-hour program at West-East Yoga and has been involved in the yoga community for 15 years. She is certified in YogaFit I, Integrative Yoga for Seniors, and is a level 500 E-RYT with Yoga Alliance. Johanna is passionate about the relationship between the body, mind and spirit and hopes to aid others in finding their love of yoga. She is especially skilled in offering modifications and challenges alike for her students so that they can achieve their personal goals. Johanna strives to provide a safe, loving, and positive energy in her classes to help improve the mind, body and spirit of all her students.
Jeanie Rhoads, Communications Mgr.
While Jeanie grew up attending her mother's Ho'opiopio (Hawaiian for "rejuvenation") classes, it was while studying psychology and practicing yoga in college that she delved deeper into how the brain and mind work with the body. She graduated from West East Yoga in 2014 and set out to share how yoga re-educates the nervous and muscle systems to undo the damage of misalignment and anxieties of daily life. She has felt honored to guide her students in accomplishing just that through Hatha, Vinyasa, and Power Yoga classes, focusing on linking breath with mindful movement, ever since.
Daniel Fazio, DC Anatomy & Physiology
Dr. Fazio has taught Anatomy & Physiology at West East Yoga since 2014 and provides chiropractic and acupuncture treatments as well as nutrition and lifestyle counseling at Aequa Health & Wellness. He is passionate about Holistic Medicine and combines the powerful techniques of Chiropractic, Five Element Acupuncture, Homeopathy and Nutrition in his treatments of patients. Dr. Fazio focuses on helping his patients correct systemic imbalances naturally and return to a state of optimal health and well-being.
Danette Watt, Founder, The Yoga Connection
An avid Crossfitter, runner and overall health and fitness enthusiast, Danette began practicing yoga to bring balance to her life. She wants to share the benefits of yoga to diverse groups of people – athletes looking for active recovery, seniors wanting to maintain their functional fitness through healthy aging and students wanting a more challenging class. Danette has a keen interest in anatomy and physiology and believes the yoga pose should fit the body, not that the body should fit the yoga pose. Danette graduated from West East Yoga in Nov. 2014. Founder of The Yoga Connection, she manages the yoga studio at Be Well Now in Alton, where West East Yoga offers a satellite program.
Siri Atma Kaur, Kundalini Instructor
Siri Atma completed her Bachelor of Arts in Psychology at University of Missouri Saint Louis in 2005. In 2012, she completed Yoga Teacher Training through West-East Yoga and graduated with a 200-hour certification recognized by Yoga Alliance. In 2013, she continued her studies and began Kundalini Yoga Teacher Training at Sat Tirath Ashram in Kansas City, MO. Siri Atma teaches Hatha & Kundalini Yoga classes and private instruction throughout the St. Louis area, works with healing those with addictions, and has served as the administrator of the programs at West-East Yoga.
Susan Steiger Tebb, PHD, LSW, RYT
Professor of the School of Social Work at Saint Louis University, Sue has centered her research around family care-giving. As a social worker for more than 40 years, she has worked with diverse family configurations and her research, knowledge, and training led her into using yoga in the healing process. She is a Life Force Yoga Practitioner and holds a Certificate of Completion in Therapeutic Yoga for Seniors from Duke Integrative Medicine. She has offered a number of presentations and workshops on how to incorporate yoga into mental health care.